---
Design-Expert® software provides powerful features to add confidence, prediction, or tolerance intervals to its graphical optimization plots. All users can benefit by seeing how this provides a more conservative 'sweet spot'. However, this innovative enhancement is of particular value for those in the pharmaceutical industry who hope to satisfy the US FDA's QbD (quality by design) requirements.
Here are the definitions:
Confidence Interval (CI): an interval that covers a population parameter (like a mean) with a pre-determined confidence level (such as 95%.)
Prediction Interval (PI): an interval that covers a future outcome from the same population with a pre-determined confidence level.
Tolerance Interval (TI): an interval that covers a fixed proportion of outcomes from the population with a pre-determined confidence level for estimating the population mean and standard deviation. (For example, 99% of the product will be in spec with 95% confidence.)
Note that a confidence interval contains a parameter (σ, μ, ρ, etc.) with "1-alpha" confidence, while a tolerance interval contains a fixed proportion of a population with "1-alpha" confidence.
These intervals are displayed numerically under Point Prediction as shown in Figure 1. They can be added as interval bands in graphical optimization, as shown in Figure 2. (Data is taken from our microwave popcorn DOE case, available upon request.) This pictorial representation is great for QbD purposes because it helps focus the experimenter on the region where they are most likely to get consistent production results. The confidence levels (alpha value) and population proportion can be changed under the Edit Preferences option.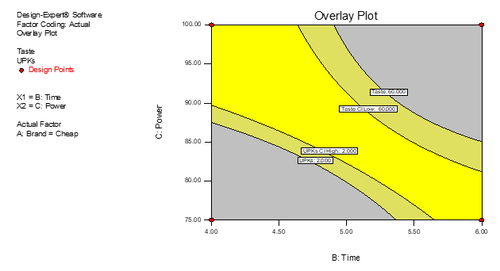 ---
---
We've designed Design-Expert® software to be flexible and user-friendly. For those of you who haven't had a chance to fully explore its capabilities, here are some tips to help you navigate the software and find options that are useful for you:
The all-new Design Wizard asks you a series of questions, and then directs you to a starting design! You may want to modify things from here, but it's a great starting point.
To access guidance specific to the screen that you are on (Screen Tips), click on the light bulb on the tool bar. The question mark brings up more general help.
Use the Tab key when entering factor information. The tab will flow left to right across the factor information for the first factor, and then move to the second factor. No mouse is needed!
You can change factor names or levels by right-clicking on either a factor or response column header and choosing Edit Info. This is a convenient way of editing design information rather than rebuilding the design.
Insert or Delete a response (or factor) by right-clicking on a response or factor column header.
On the Design Layout view (spreadsheet) right-click on the gray square to the left of any row to access features like Inserting/Deleting/Duplicating rows, or changing the Row Status to Verification/Highlight/Ignore.
On a graph, you can change axis settings, number formats, graph features, colors, and more, by right-clicking on the graph and choosing Graph Preferences. On a contour plot, you can set the increments of the contour lines to specific values.
---