Cutting-Edge Tools in Design-Expert Version 13
Version 13 of Design-Expert® software (DX13) provides a substantial step up on ease of use and statistical power for design of experiments (DOE). As detailed below, it lays out an array of valuable upgrades for experimenters and industrial statisticians. See DX13's amazing features for yourself via our free, fully functional, trial download at www.statease.com/trial/.
Modify Design Space Wizard
Quite often an experiment leads to promising results that lie just beyond its boundaries. DX13 paves the way via its new wizard for modifying your design space. Press the Augment Design button, select "Modify design space" and off you go. Run through the "Modify Design Space – Reactive Extrusion" tutorial, available via program Help, to see how wonderfully this new wizard works. As diagrammed on its initial screen, the modify-design-space tool facilitates shrinking and moving your space, not just expanding it. And it works on mixture as well as process space.
Poisson regression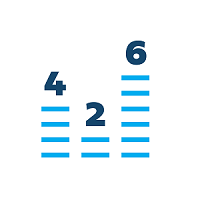 For assessing measures that come by counts, Poisson regression models fit with greater precision than ordinary methods. Demonstrate this via the "Poisson Regression – Antiseptic" tutorial where Poisson regression proves to be just the right tool for modeling colony forming units (CFU) in a cell culture. This new modeling tool, along with logistic regression for binary responses (introduced in version 12), puts Design-Expert at a very high level for a DOE-dedicated program.
Multiple analyses per individual response
Easily model any response in various ways to readily compare them. Then chose the model most fitting for achieving optimization goals. Simply press the plus [+] button on the Analysis branch. The Antiseptic tutorial demonstrates the utility of trying several modeling alternatives, none of which can do better than Poisson regression (but worth a try!).
Rounding factor or component settings
Optimal (custom) designs work wonderfully well for laying out statistically ideal experiments. However, the numerical levels they produce often extend to an inconvenient number of decimal places. No worries: DX13 provides a new "Round Columns" button—very convenient for central composite and optimal designs. As demonstrated in the Antiseptic tutorial, this works especially well for mixture components—maintaining their proper total while making the recipe far easier for the experimenter to accomplish. Do so either on the basis of significant digits (as shown) or by decimal places.
Import Data
DX13 makes it far easier to bring in existing data. Simply paste in your data from a spreadsheet (or another statistical program) and identify each column as an input or output. If you paste in headers, right click rows to identify names and units of measure. For example, DX13 enables entry of the well-known Longley data (see the "Historical Data – Unemployment" tutorial for background) directly from an Excel spreadsheet. Easy! Once in Design-Expert, its advanced tools for design evaluation, modeling and graphics can be put to good use.
More Enhancements
Design
The Constraints node now allows you to modify existing limits: Second thoughts? No problem!
New ribbon with easy access to versatile design-layout features such as Change View, and Hide/Show Columns
Runs outside the constraints flagged, but still usable for analysis; furthermore, they can be moved back into the valid space via the right-click menu
Adding verification runs after an analysis no longer invalidates it
Continuous and discrete numeric factors now indicated in the Design Summary
Analysis
Response name now included when copying equations to Excel
Pearson, Deviance, and Hosmer-Lemeshow goodness-of-it tests added for logistic regression
Diagnostics
New preference for the default layout of the Diagnostics tabs
Graphs
Box (and whiskers) Plot for Graph Columns: Another very useful tool for data exploration prior to analysis.
Control multiple graphs at the same time with the factors tool: Side-by-side interactive views—enlightening!
Perturbation and trace plots now colored by factor
New All-Factor graphs option shows only factors selected for the model
When the number of tick-marks becomes large, only a subset is shown
For large designs, the Leverage graph scales to maximum value, rather than 1
When FDS-graph crosshair goes above 80% it changes to black, rather than red